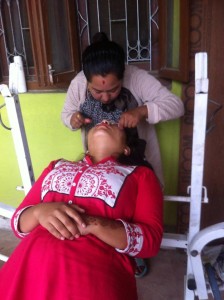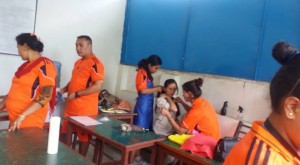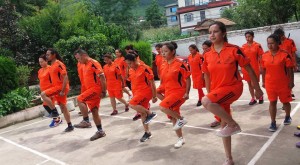 ​'                                           Adarsa Samaj Nepal' , a nonprofit making organization has been working in the field of vulnerable youth since its inception in 2012. The organization organizes training projects to building their physical, mental, moral & employment capacities and together raising awareness for basic healthcare, safety & security, social reforms & environment protection. 
The training has already been started on 16th July 2017. It is a three months long training project. Under the skill development training,the organization is conducting the training in collaboration with the SKILL DEVELOPMENT TRAINING CENTER, Nepal Government. There are 30 vulnerable women & girls in the training project. They have Hair dressing class from 10:00 hrs to 13:00 hrs and after this, they have either awareness classes like basic healthcare, safety & security, social reforms, environment protection or other classes like personality development, public etiquette, discipline, morale & motivation or physical development training (route running, PT, martial arts) etc. until 15: 30 hrs. It is holiday on Saturday.
If someone is interested & eligible to take classes on above mentioned topics for them voluntarily, feel free to contact us please.
Contact:
Adarsa Samaj Nepal, or Ideal Society Nepal (in English)
Kirtipur-8, Kathmandu, Nepal
Telephone: 01-4333598
Cell Phone: 9741276502